Today: Wed Nov 20 16:44:34 2019

It was a last-minute decision to go to Taman Negara with my father and son. I only knew that Jerantut, the town where you can get transport or book tour packages into Taman Negara, can be reached by train. Daily, there is a shutter train departs from Singapore at around 6am and an express train departs around 8pm (reach Jerantut around 5am). Both will take about 9 to 10 hours of journey.

From internet, 1st July onwards is considered peak tourist season. I'm surprised as there is a two-week school holiday of Malaysia and a four-week school holiday of Singapore in the month of June. I decided to depart on Thursday which was near the end of Malaysia's school holiday. On hindsight, Taman Negara is not a popular destination for 'average', or rather 'normal', Singaporean. However, train tickets are fully booked after checking the ticket availability online with the Malaysian Railway Official Website. My first choice was to have sleeper seats as this would allows a good night rest. I even went down to Woodland Train Station to make an enquiry. It was confirmed that train ticket should be booked in advance during the school holiday season. I was advised to try my luck on the actual day as there would be extra carriages being added on the actual day for last-minute purchase of train tickets.

Through internet research, there were a few companies that provide tour packages to Taman Negara. Through email corresponding, I enquiried and booked a free and easy 3D2N package with extension of 1 night stay, with NFK Hotel and Travel Sdn Bhd  (http://www.taman-negara-nks.com/), which cost: 2XRM38? and 1XRM28? (25% discount for children < 10 years old) +RM19? (extension of 1 night of Chalet Stay) = 123?RM (Ringgit Malaysia).

On Thursday's morning, my father made a trip to Woodland Station to try to purchase last-minute tickets. However, no tickets were available. So I decided to go directly to JB Larkin Bus Station to take a coach to KL where we could catch a bus from KL to Jerantut (about 3 hours' journey). At 3pm, we had clear the custom, which had almost no queue. I tried to purchase the train tickets at ticketing counter at City Square, JB and was told to wait for 30 minutes for confirmation of tickets, as additional carriages were likely to be added. If train tickets were not available, I would have asked my wife to book a hotel in KL in advance while we travel by coach to reach China Town Area of KL. Prior to the trip, online internet checking reveal that a few hotels in China Town Area are almost fully book. Since we - a yound kid, old man and a pioneer (generation) - would have reached KL at about 10pm, it was better to secure a hotel reservation. I was told by few colleagues who frequently travelled to Malaysia that coach from JB are frequent and you most certainly can purchase tickets to KL on the spot.

Finally, we got our 1st class air-conditioned seats (about 38RM for adult, 19RM for children and senior citizen) Since the train would departed at 8pm, we had got enough time to watch the show 'The Edge of Tomorrow', starring Tom Cruise and Emily Blunt.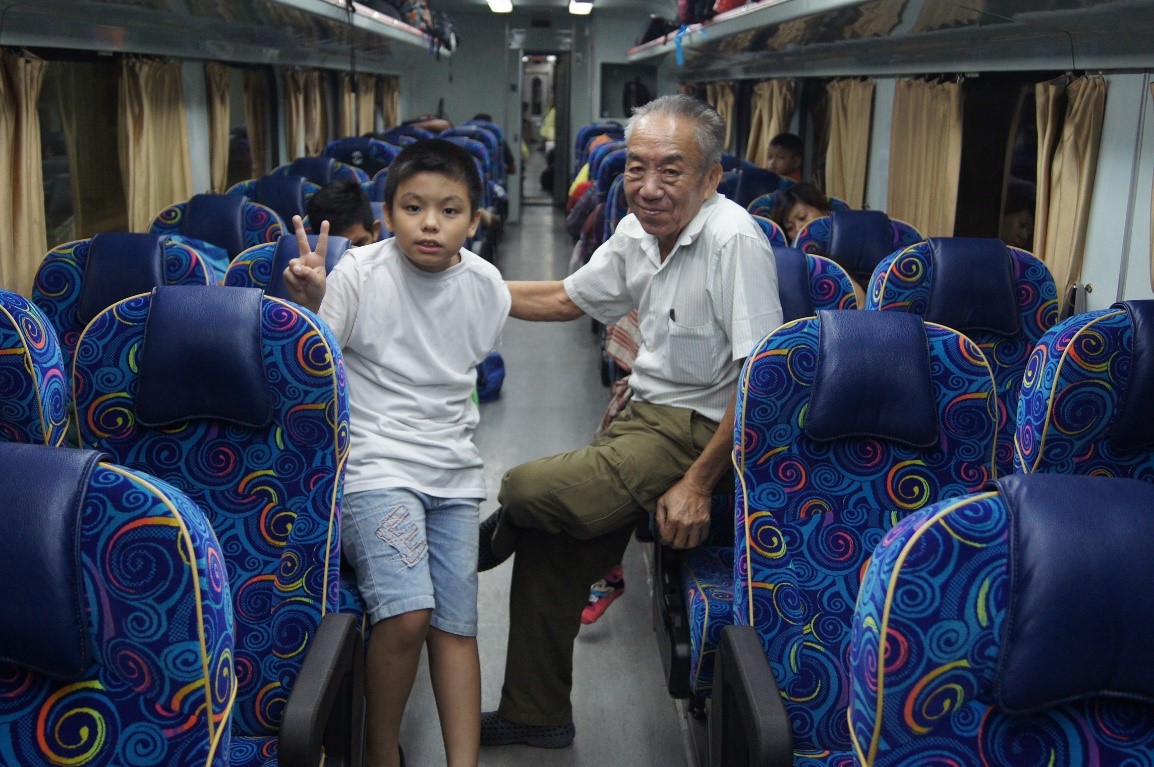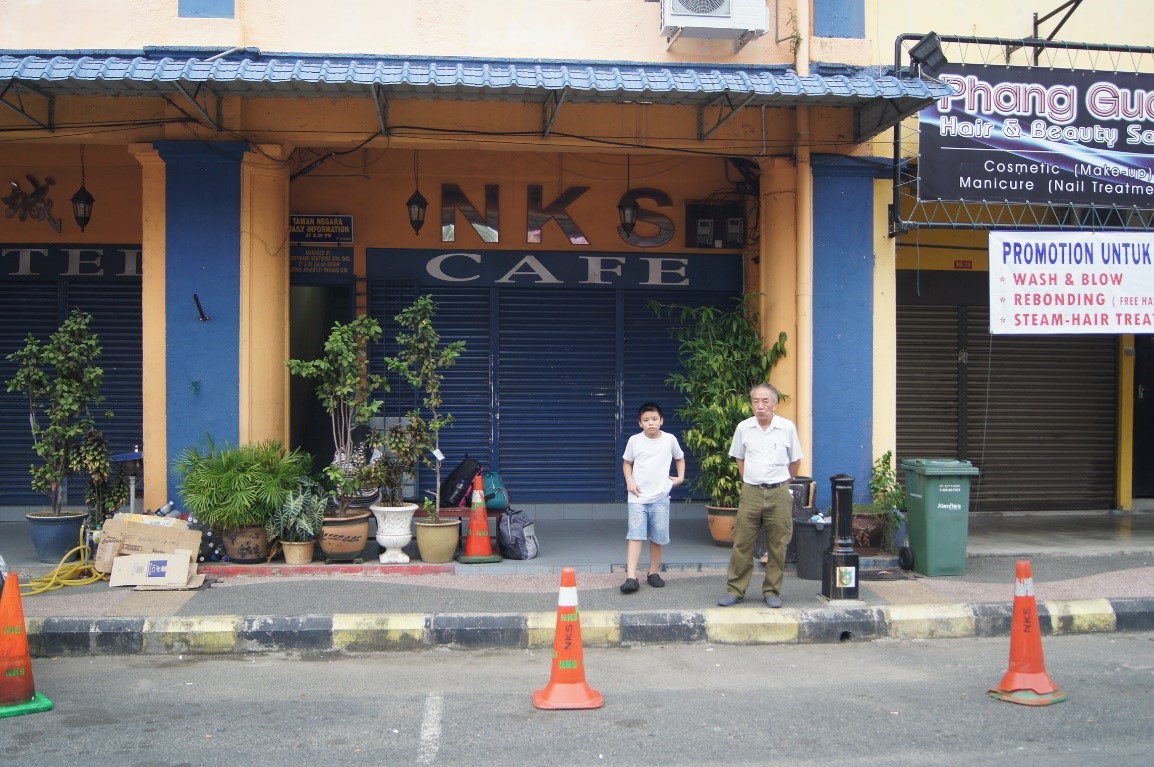 We reached Jerantut around 5:30am. Although NKF promised that there would be a person to fetch us, the person was not there. You had to be careful not to miss the station as no announcement was made about which station had the train reached, unlike those more popular destinations where there were announcements. We waited for a while, before walked out of the station towards the small town, where we had a simple breakfast (15RM for 3 persons) at a coffee shop that just started their daily business.

Hotel Sri Emas (operate by NKS) was just about 100 metres away from the train station. The room rate (for 2 or 3 persons) of the hotel is about 60RM per day. So, you could stay there for a night if you reach Jerantut late in the day. Actually, the guy who manned the hotel was supposed to fetch us at the train station. But he was late and we had already left the train station.

The NKS tour office is just nearby the hotel. It opens around 8am. I paid by cash (they accepts credit card) the agreed amount of the booked tour package on the spot, We used the toilets of the office before we, together with another 4 tourists, took a small van which departed at 8:30am, to reach Kuala Tembeling Jetty (45 minutes journey).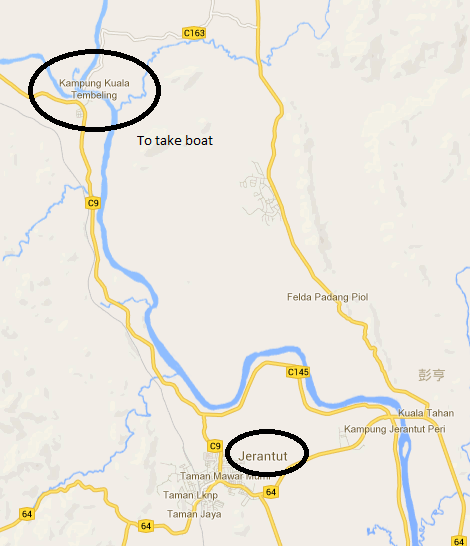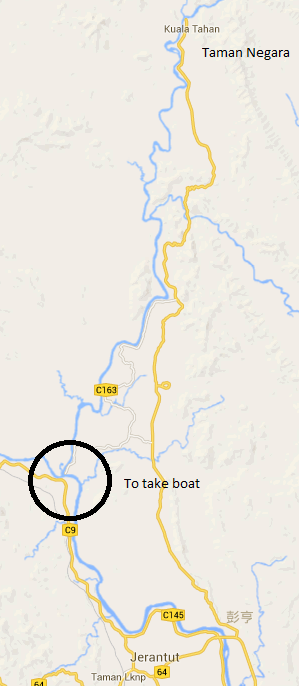 From there, a boat trip of 2.5 hours brought us to Wan Floating Restaurant, which is operated by NKS, at 12pm. We took a buffet lunch which costed 15RM for adult and 10RM for children. On hint sight, taking into consideration the quality of the food, this was considered expensive as compared to other floating restaurants. Although we want to book a 2-hour rapid shooting at 3pm, the young chap in charge of the booking gave us a good advice of taking a good rest for the rest of the day , and starting any activities on the next day.

Indeed it was a very good advice and we took a much needed 2-hour nap in the chalet before deciding what to do the next day. The train journey was very tiring as you couldn't rest or sleep well.

The hotel we stayed was Xcape Resort @ Taman Negara (previously called Woodland). It is about 15 minutes' walk from Tembeling River. This is one of the resorts that is further from the river. The hotel has a small swimming pool of size about 6m*6m, which we used whenever we had some free time. Remember to bring your swimming goggles. The last 2 weeks before July is low season, coupled with the world cup, the resort utilization rate is < 10% accordingly to my estimation. The resort complex are very spacious since, I guess, the resort is further away from district 1 to 8 - the river. The buffet breakfast provided was minimum due to recent re-sturcturing and a push to provide healthy living. The pattern was rice, scrambled egg and sausage, or noodle, bean, chili, with miserable amount of ikan bilis. The food only got 'top up' when the 'supply run' very low. I love it as it fits into my ideal, though hard-to-achieve practice of healthy living back in SG. The fruit was always watermelon for our stay there. Of course, coffee, tea, syrup drink, bread, butter and jam were always available. Overall, I like the stay there - highly recommended.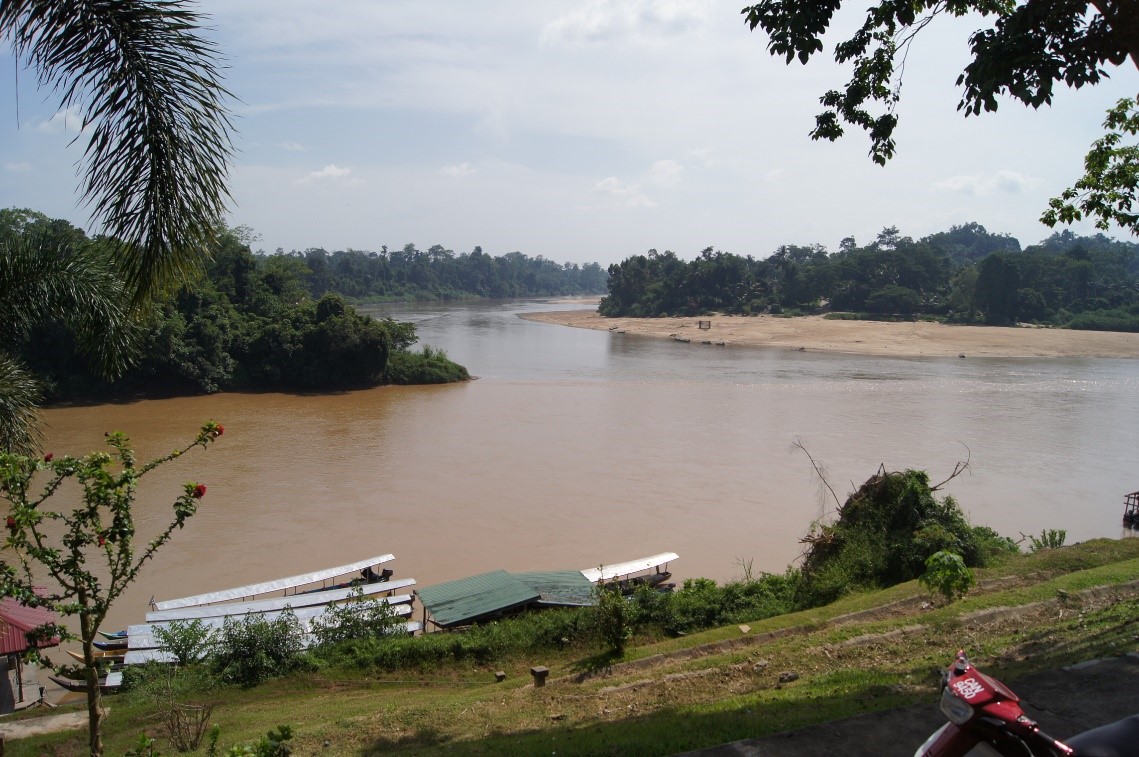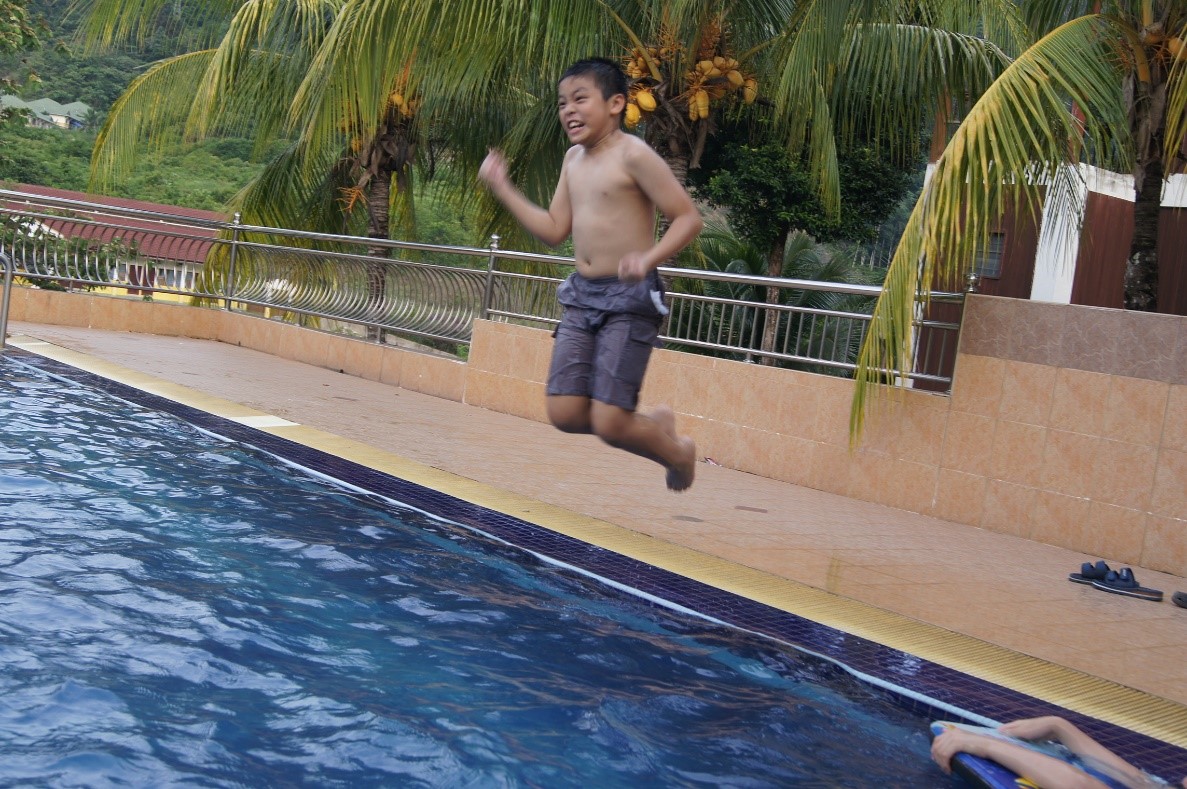 The resorts and accommodations are concentrated in a local town/villages called Kuala Tahan, on one side of the river. This town is reachable by road and it has its own school and police station. Taman Negara, where the inner jungle hiking starts or where the canopy walk is, is on the other side of the river. Hotel Mutiara Taman Negara Resort - the equivalent of Istana - which is on the other side of the river, is more expensive but will provide you with a feeling of jiak liao bee. River crossing by boats, which are convenient and fast, is only 1RM per person.
There was no rain for the 4 days that we were there. Even though the weather forecast from internet showed there should had been frequent afternoon rain. It was very hot to walk from the resort to the river bank, under the hot sun of the afternoon. Remember to bring umbrella.
You can settle you lunch and dinner at various floating restaurants. There are fried rice, fried noodle and a la carte menus. I would say that food are average. We only visited 3 different floating restaurants and I don't have a completed overview. You will be disappointed if you are there for food. We spend generally about 8 to 12 RM per person for lunch or dinner. For example, one bow of Tom Yum Soup cost 8RM and 10 sticks of satay cost 10RM. Over there, I had not eaten a nice nasi lemak, which you could get in a lot of other places. Glossary such as mineral water, fruits, snacks, clothing and etc. can be brought at reasonable price at a few provisional shops.
We signed up for a night safari (2X28RM + 1X24RM, listed price is 40RM/person) while we were having our dinner at Wan Floating Restaurant. At 8pm, we started our night safari. We had a total of 7 persons sat behind a 4-wheel-drive vehicle (open top) with a guide sitting in front of us, constantly shining a powerful spotlight into the darkness, in search of nocturnal animals. The vehicle went into a palm oil plantation. The slow drive into a plantation at night should be generally safe since the driver has a clear view in front of the vehicle, as provided by a strong vehicle's front light. I will think that it is definitely dangerous if it is rainy since the visibility will be affected and road will be slippery. It will be disaster if the vehicle is to slide into a small cliff/slope and got overturned. It was not a surprised that we could not find interesting animals, such as wild boars or pythons, other than some birds and squirrel. It was amazing that the guild had an almost perfect eyesight or maybe with experience, that he can spot birds from afar, using a spot light at night. For those who went through army training, this is nothing exciting as compared to a night manoeuver or overnight stay in rubber plantation or jungle. However, the child enjoyed it very much.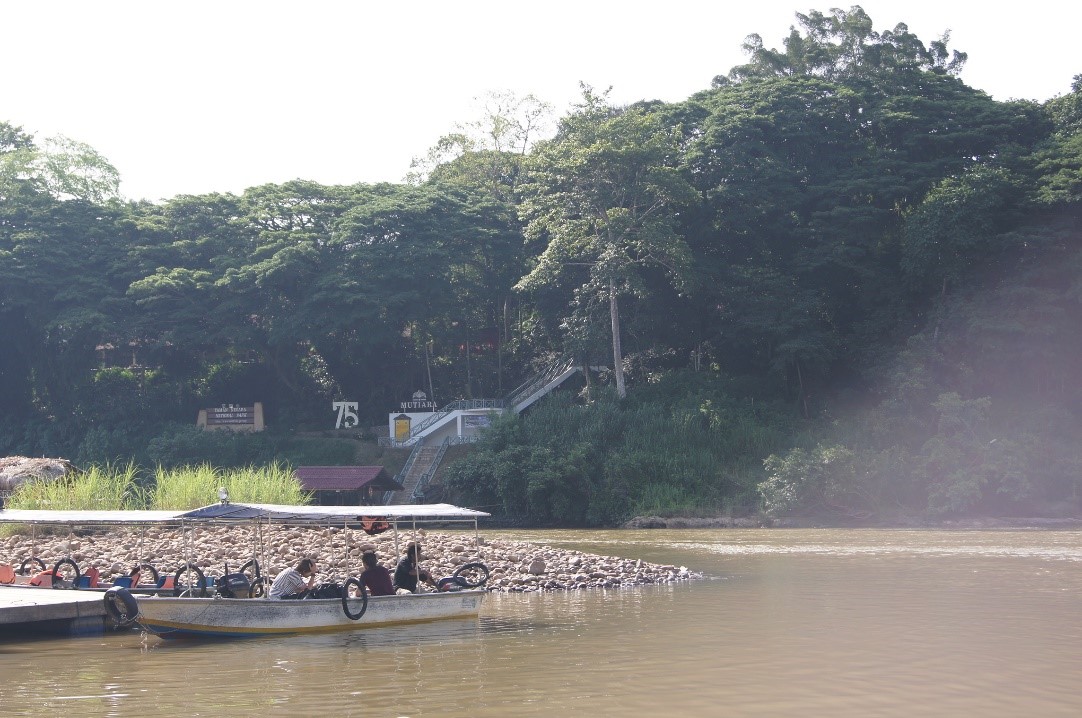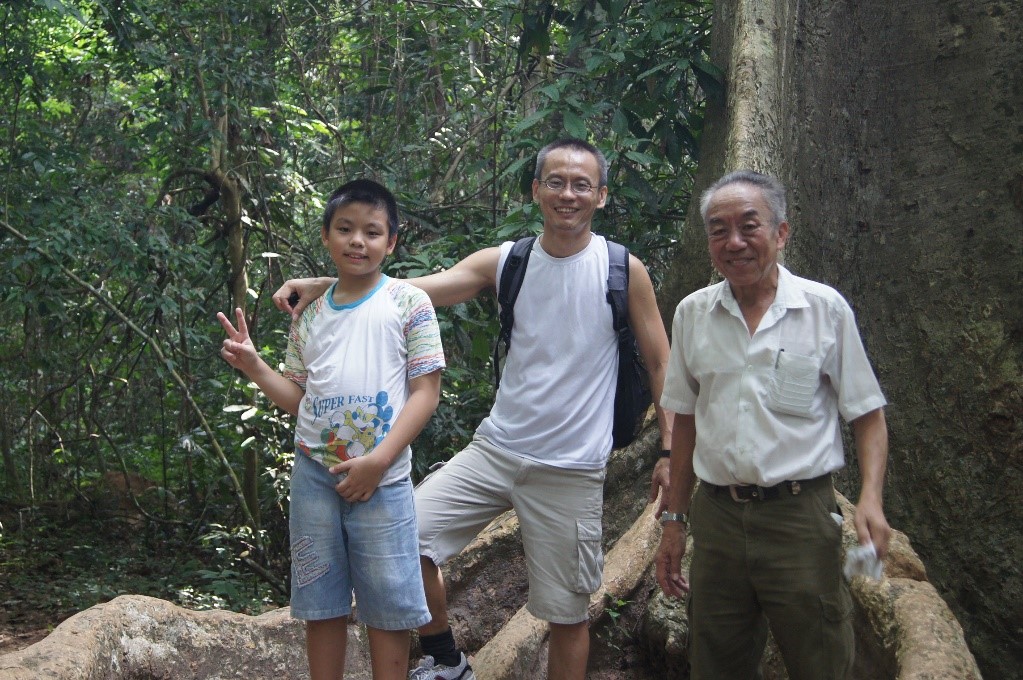 After the Canopy Walk, my son and I took about 45 minutes to reach the top of Bukit Teresek, while my father waited for us at the end station of Canopy Walk. For the old, climbing the small hill will be too exhausting.

The kid enjoyed the canopy walk (which is not scary at all) very much. Children above 7 should be ok for this activity. Remember to bring some food, drink and rain coat along. It is unlikely to get lost as most part of the journey has properly constructed walkway with clear signage. Our next programme is 'Combo Visit of Rapid Shooting and Orang Asli' which costs - 2X56RM + 1X47RM - (listed price is 70RM per person).

At 3pm, we started the program. We sat on a wooden boat (about 14 persons, fully occupied), went through a few rapids caused by underwater rocks, and got ourselves very wet. It was relatively safe as the river was not too deep, and it was unlikely that the boat will be capsized. It took about 30 minutes to reach the orang asli village.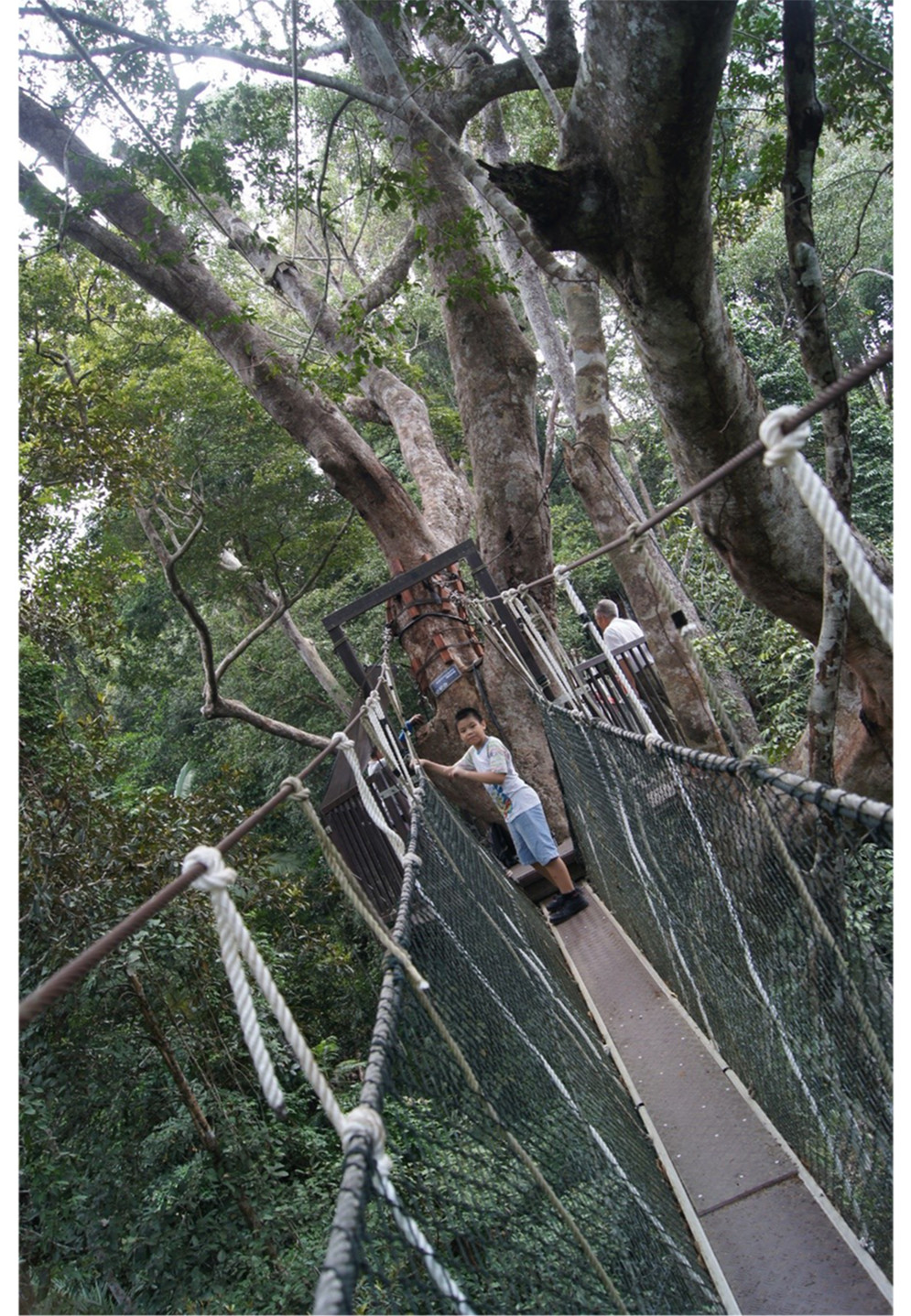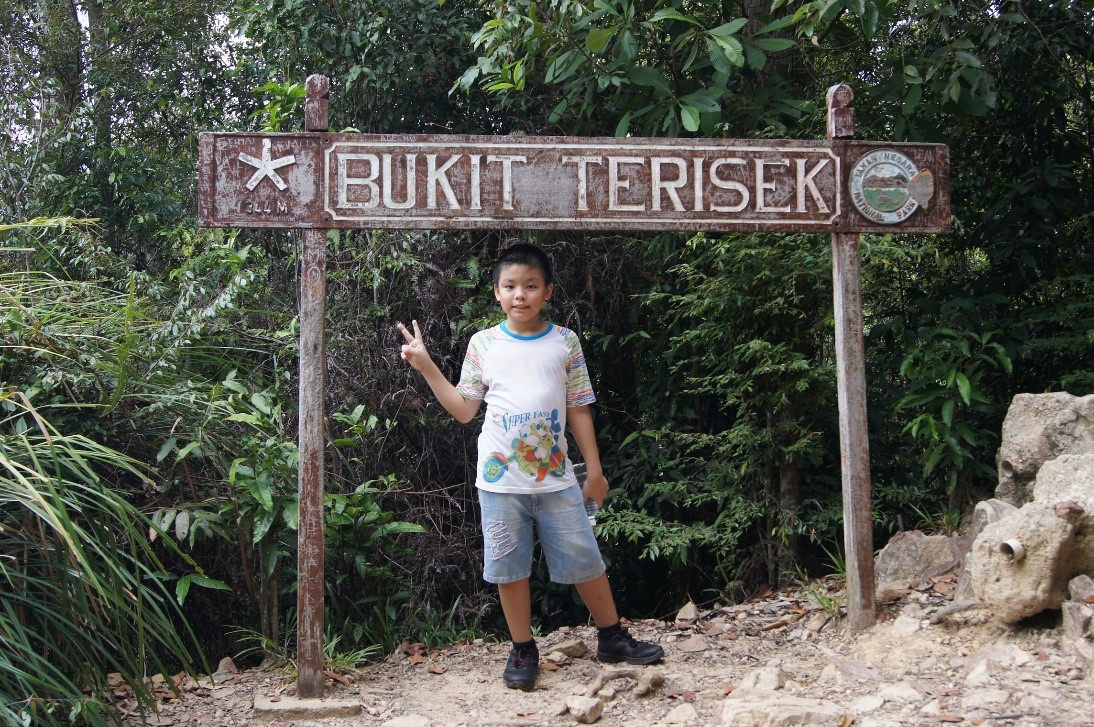 It was very small village with not more than 3 families based on my estimation. I guess they encamped in this particular location most probably for the purpose of supporting the 'tourism industry', as they should have got rewarded for their part in this tour package. They look like African which surprised me. I guess with another two or three generations, with the encroachment of modern technology and influence into their living environment or lifestyle, they would not be nomadic anymore, We spend about 1 hour listening to the guide explaining, which I find quite boring, the lifestyle of orang asli. Thereafter there was a demonstration by an Oragn Asli about setting up of fire and making of dark for the blow gun. You will have a chance to use the blow gun to shoot a target. We spend another 30 min for resting and swimming along the river bank before heading back to Kuala Tahan. It took about 3 hours for the whole trip.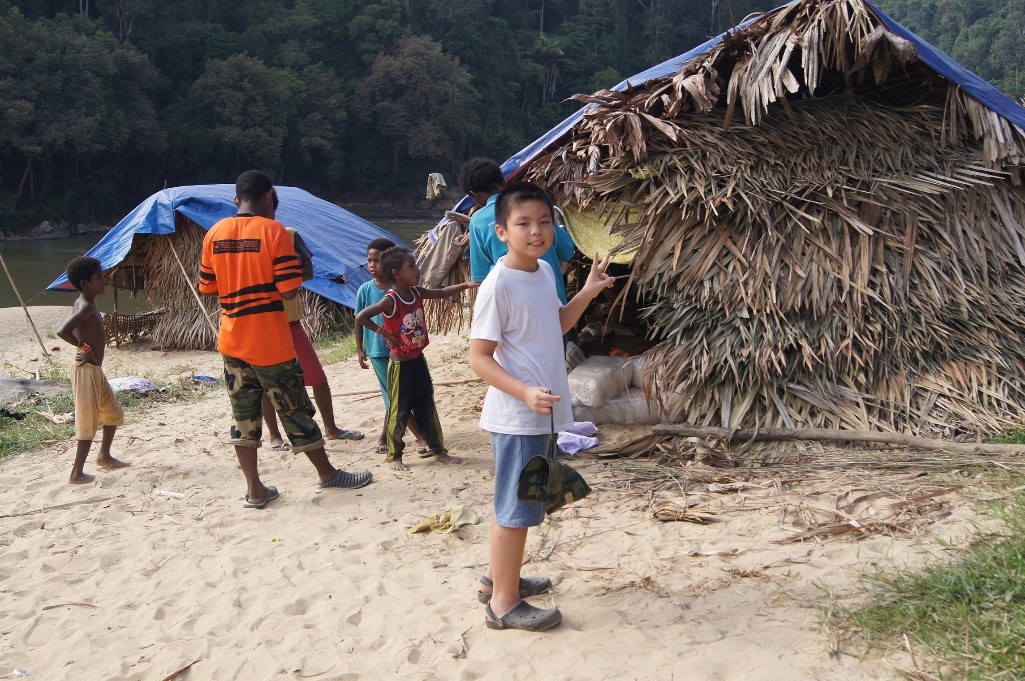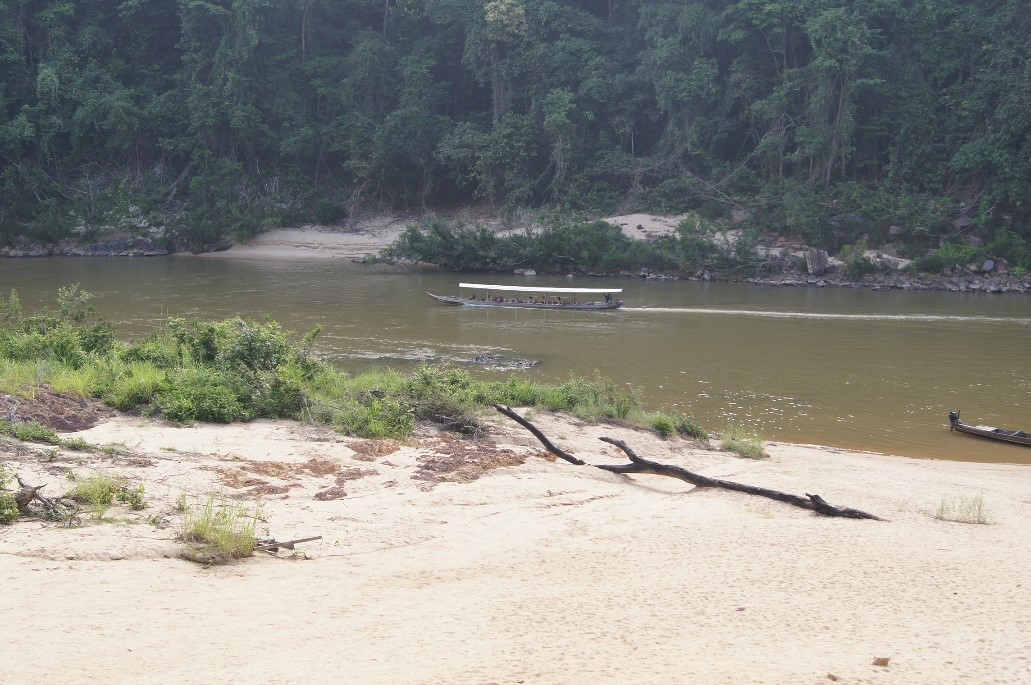 On Sunday's morning, the resort was almost empty as most Malaysian could have checked out since it was the end of their school holiday. We had the entire swimming pool to ourselves. I wanted to go to Lata Berkoh, which is accessed via another smaller river, to see the waterfall cascades. I made enquires with 2 agencies and got a best price of 180RM per boat. As the river are smaller and shallower, only small boat that can carry a maximum of 4 customers with 2 boatman, are allowed. It seems like 180RM is the agreed lowest price among the tour agencies. Even though we were only 3 persons, I still signed up for the trip.

At 2:30pm, we went to one of the designated floating restaurant to look for the boatman. The two boatmen, one sat at the front of the boat carrying a paddle and one sat at the back of the boat controlling the motor, needed to carefully and skillfully manoeuver the boat upstream, as the river is shallower. The boat could easily hit the rock below the water and damage the boat. It was safe as the water was shallowed. I guess depending on the season, the water level could be different. The scenery was very nice as your could see the canopy covering the river at most part of the journey upstream.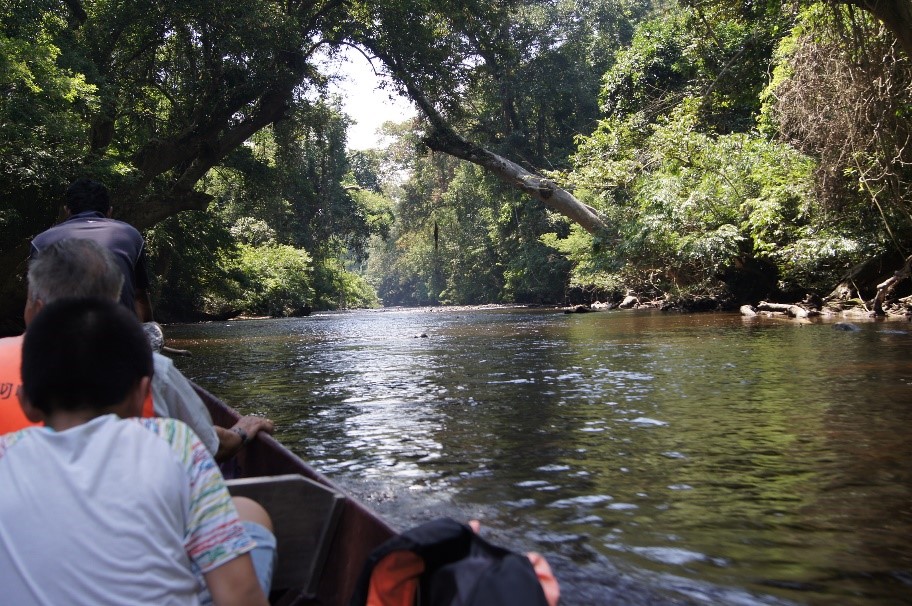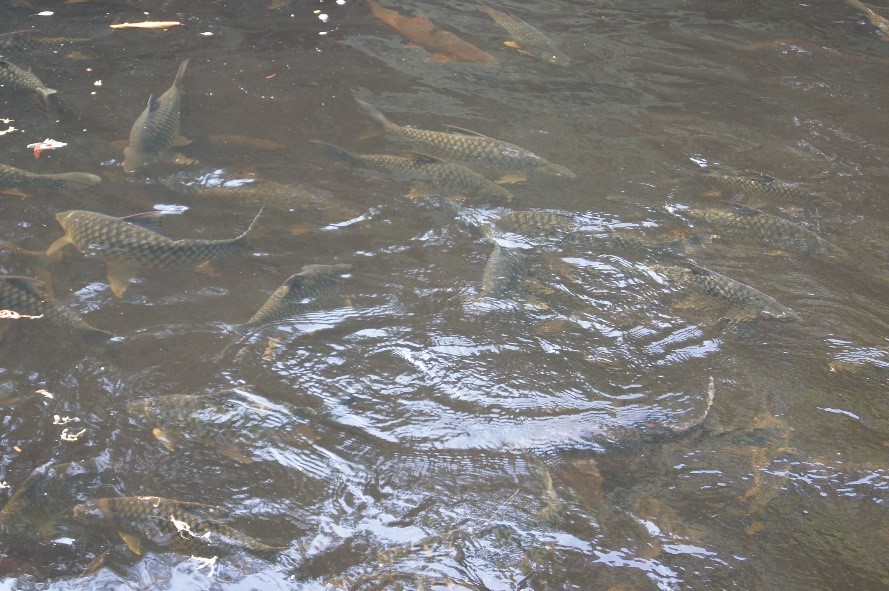 It took about 30 min to reach the place. The boatmen showed us the path towards the waterfall (good luck!) and waited for us at the river band. We were the only boats at that point of time. After a 20-minute trek, we reached the waterfall. The area was not suitable for swimming and was risky to move around the big rock with a small kid. We spend a short while there and then trekked back to where the boatmen were and relaxed at the river bank for a while. On the way back, we stopped at the Kelah Sanctuary to see the Kelah fish. The area was under 24 hours CCTV surveillance to prevent people from catching the Kelah fish, which are protected by law. As you threw the 'fish food' into the water, the fish would come closer to the river band to snatch the food. It was a pity that we were not able to go into the river to have close contact with the fish. No wonder we were the only boat who stopped by the sanctuary to feed to the fishes. The whole trip took about closed to 3 hours.

Next morning, we departed by boat from Kuala Tahan at 9am. It took only 1.5 hour to each Kuala Tembeling Jetty since we were going downstream and the boat was lighter (only 3 customers - us). It was not so exciting this time as compared to taking the boat upstream the first time. I should have taken a bus directly from Kuala Tahan to Jerantut (about an hour journey) or KL directly. We waited for the mini-van to bring us back to Jerantut. We reached Jerantut at 12pm and bought the tickets for a 2pm train to Singapore. It was very hot everywhere in Jerantut at noon time. Most of the coffee shop were closed in the afternoon, therefore we were not able to find a decent shop to have lunch. We reached SG at about 1am (Tuesday). Well, the train journey was the most tiring part of the entire trip.


This is my advice if you are visiting Taman Negara in the low tourist season:
Do not sign up for full-board package where activities are included and hence are more expensive. You might not be interested in all of the activities included. You might not be sure whether there is refund if activities are cancelled due to bad weather.
Try to book a sleeper seat in advance, if you can, for the train journey to Jerantut. If not, you could take a coach (either from SG or at JB Larkin) to reach KL before 4 or 5pm. Then take a bus (3 hours journey) to Jerantut. And stay overnight in a hotel (book in advance) in Jerantut.
You can buy a boat ticket from Kuala Tembeling Jetty to Kuala Tahan. As for the journey back to SG, you can arrange your transport within Kuala Tahan. You can take a bus to Jerantut or KL, rather than taking a boat ride again, which is boring for the second time. You could consider a short stay at KL as an extension of the trip. There are also transport available to Cameron highland.
You can sign up for those short excursion on the spot. They generally last about 3 hours. There will be promotional price available, which are discounted price from the listed price, during the low tourist season. I recommend rapid shooting, Lata Berkoh and Canopy Walk. 2 days of stay is enough to cover most of the essential activities.
If you like driving, you can explore way to reach Kuala Tahan directly. You could book the chalet yourself without going through agent.
There are no shopping there but it is a good place for nature lover or those who like hiking. There are lots of inner jungle hiking packages ranging from 2 days to 9 days. I heard that for a 9-day track to Gunung Tahan could cost about 1200RM (only for the guide). A porter who help you carry 15Kg of load every day will cost about 1200RM. So, even if you are no more strong like a bull, like when you are young, you still can achieve your dream (or nightmare for some of us) of climbing Gunung Tahan.

current guest: ST99999 | US21089
recent guest: ZZ11111 | ZZ96921 | NL68130 | ZZ96925 | JP25158 | US97201 | ZZ96922 | ZZ64174 | ZZ96470 | ZZ96911 | ZZ96913 | SG15165 | US61391 | US61390 | US39126 | US39136 | US53920 | ZZ96486 | ZZ96910 | SG69746 | NL68151 | NL68152 | GB26166 | SG71184 | SG94158 | ZZ96924 | ZZ64188 | ZZ96929 | ZZ96912 | NL68143 | NL68140 | ZZ96472 | NL68135 | NL68161 | US21089 | ST99999
cU: 563 cG: 6784 dT: 5 dT List: 9s 1h 31m 4h 33m 31m 36m 1h 58m 31m 50m 39m 58m 39m 44m 56m