Today: Wed Nov 20 16:44:40 2019

Hi, I am Young and today I will be presenting to you our 4-day-3-night trip to Tanjong Balai. Tanjong Balai, often abbreviated Tg. Balai, is the main town in the Great Karimun Island, part of the Karimun Regency, Riau Islands Province of Indonesia. It is often called Tanjung Balai Karimun to distinguish it from another Tanjung Balai in the Asahan Regency.

Since recently, the woodlands checkpoint is mostly jammed, it is then obvious travelling to Malaysia by car isn't such a good idea, it is then decided to travel to Indonesia's Tanjong Balai by ferry. We also partly go there as one of my mom's friend, Aunt L is also going there. On one of the Friday in December, we set off to Harbourfront Ferry Terminal by taxi.

The ferry we were taking was Sindo ferry, it is also recommend to avoid taking the ferry on Saturday to Balai and on Sunday from Balai to Singapore since most people take a short trip during the weekends. The fare is $25 per person from SG to Balai. You can get the return ticket at Balai if you're back not on Sunday. Or else, you should get the return ticket at SG. It was about 60% full since we departed on Friday.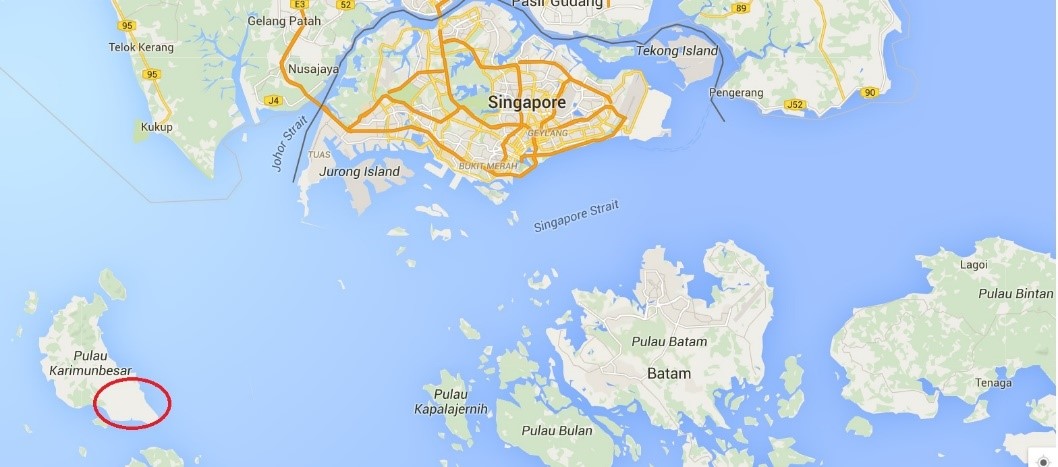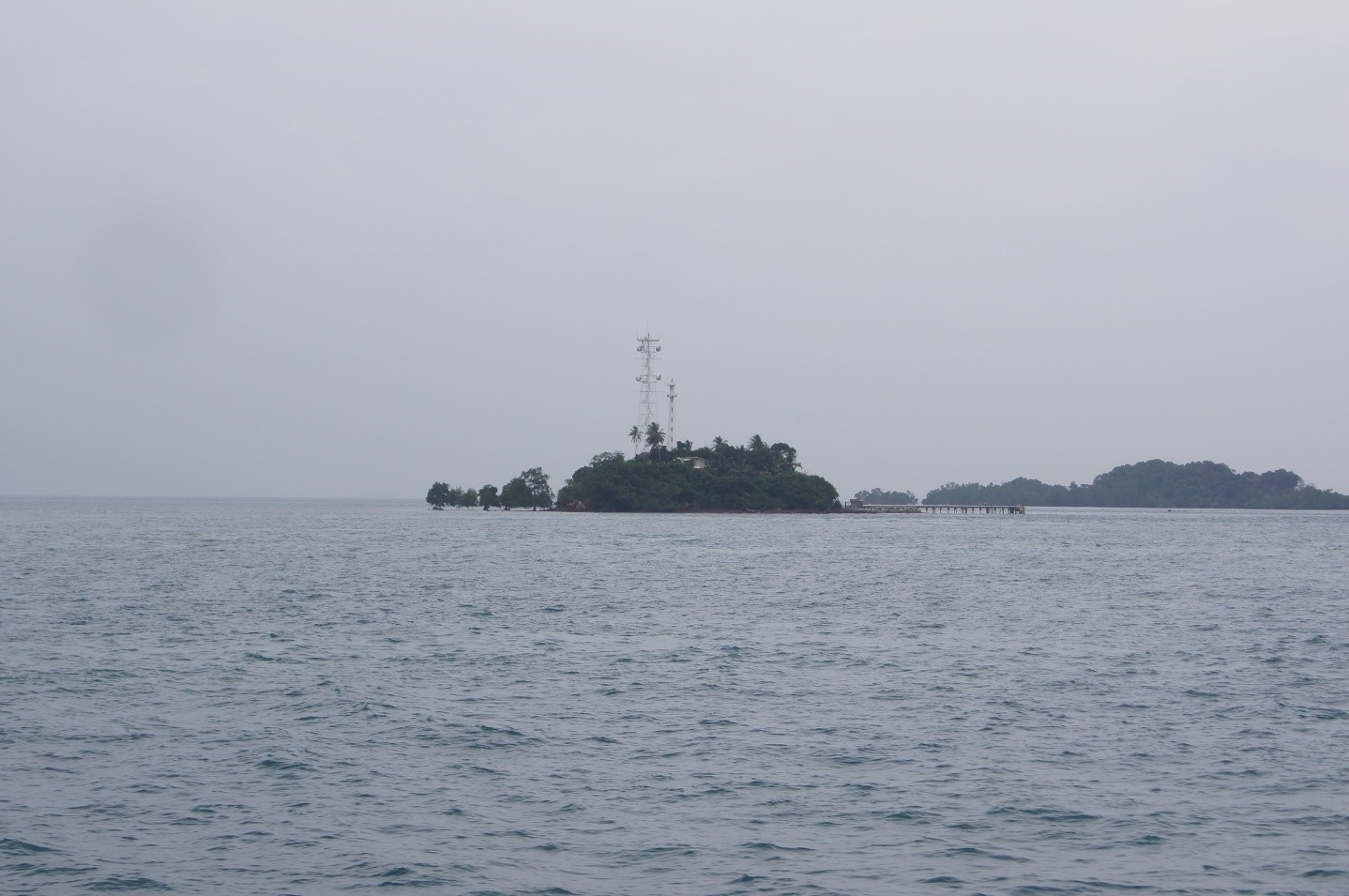 During the trip, we passed by an island with a lighthouse. Someone on board told us that it is Pedra Branca. My father told us that it should be Raffle Lighthouse which he ever canoed from Singapore to (to and fro of 34KM) during his polytechnic time. But later the we concluded that it is not.

After our long and tiring 2 hours trip, we finally reached Tanjong Balai's Teminal Pelabuhan. When we checked the time (phone), it shows "12.30 P.M." (We left at 11.30 A.M.) as Tanjong Balai's time is 1 hour slower than Singapore's.

The hotel manager arranged a free personal transport. So after clearing the custom, we were picked up by the hotel driver. The traffic in Tanjong Balai are often jammed and it is rare to see traffic lights, so jaywalking is very common. The distance from jetty to hotel is 800M on map but it will be very difficult if you want to walk there while carrying your luggage.
When we reached Hotel Maximillian, we booked in. After resting for a while, we decided to explore the area. We set off from the hotel and start combing the streets, I was disappointed when there isn't any store I am interested in. My father bought spectacles frames, which is expensive and hard to find in Singapore, that cost 250000 rupiah ($25) each.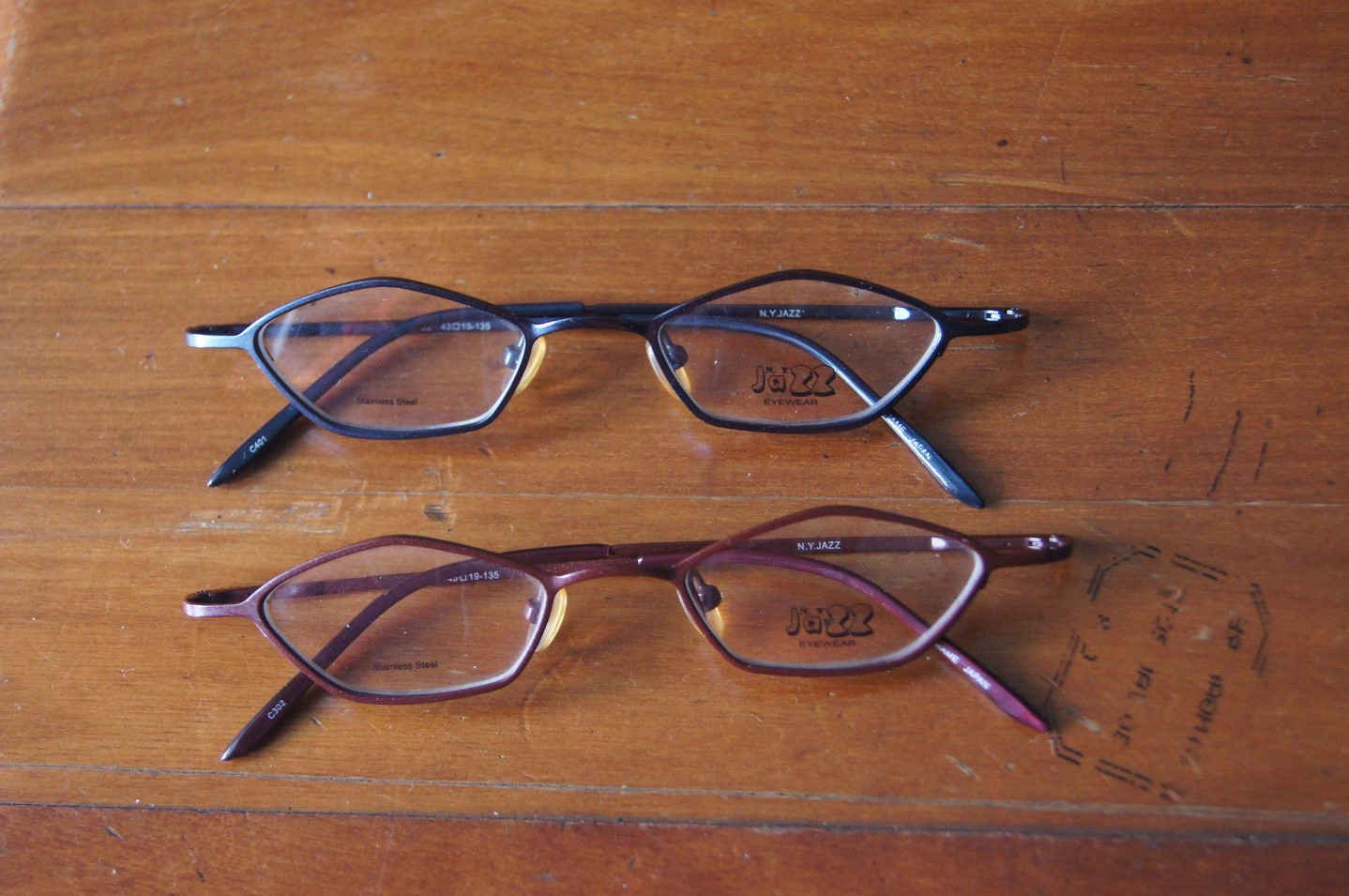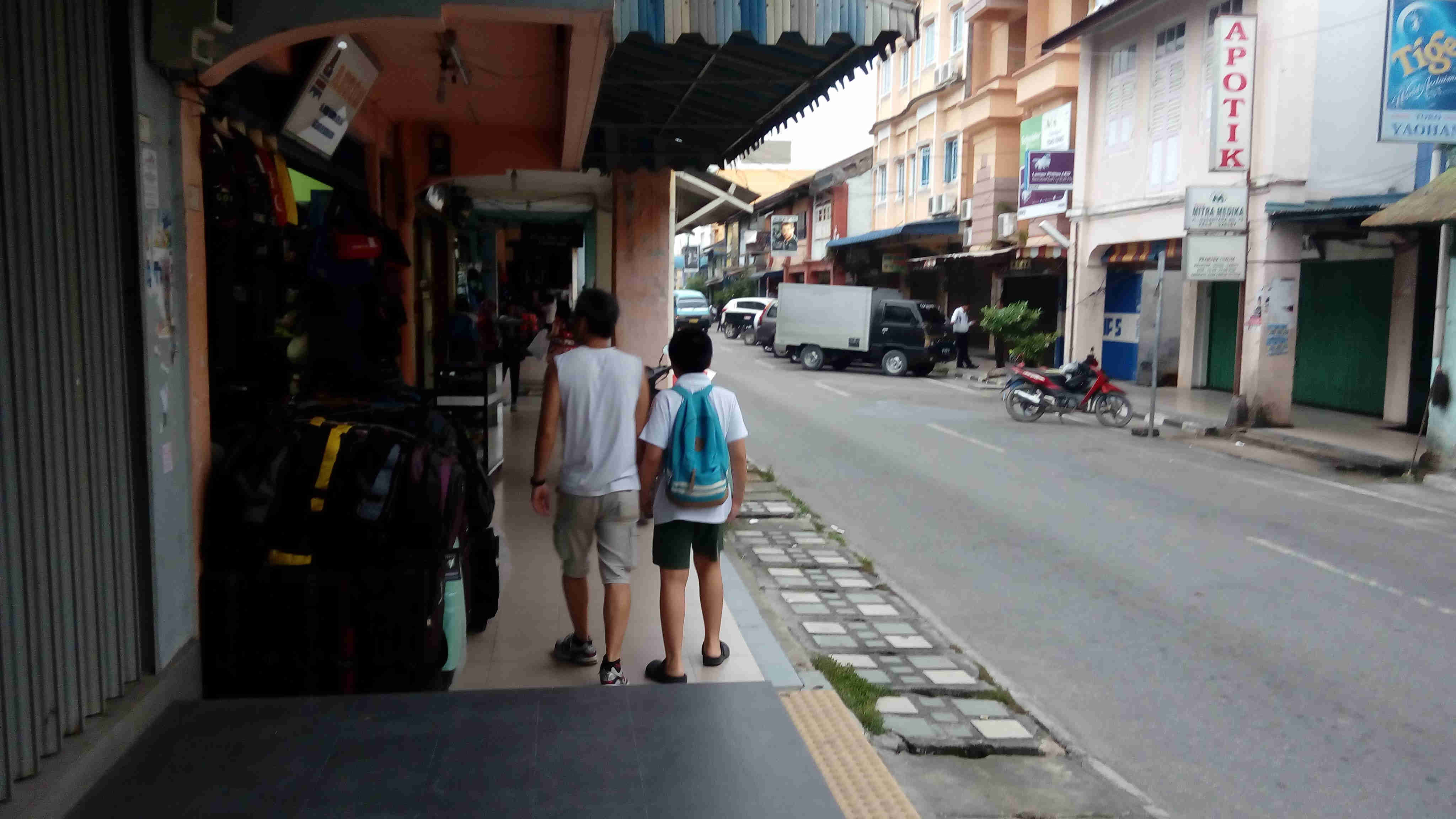 We ate our lunch at a store and while eating, some teenagers came in and sang their "beautiful" song, and then start to go around for money. The customer and shop owner don't like this. Since it is harmless, shop owner don't stop them in order not to 'offend' them. We continued to venture out and did find more interesting things. After exploring for 2 hours, we decided to head back to the hotel.

We were disappointed when the wifi provided by the hotel is very weak, so we have to go to other levels for other wifi sources (also provided by the hotel).

If you are bored, you could go to the karaoke ok at the top floor. It cost about 90000 rupiah ($9) per room for 4 person and the beverage like ice lemon tea cost around 30000 rupiah per cup. We're the only customer there that night (Friday).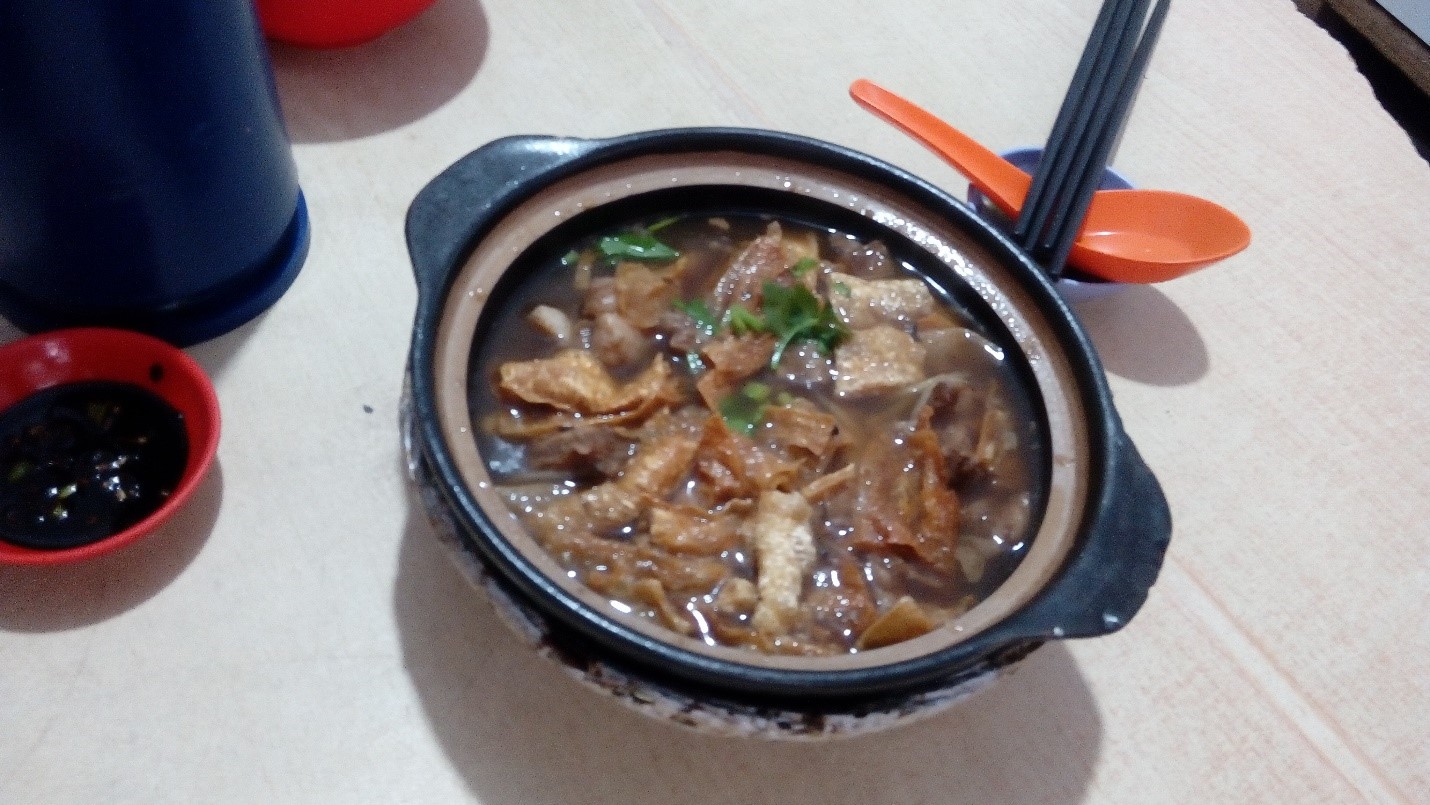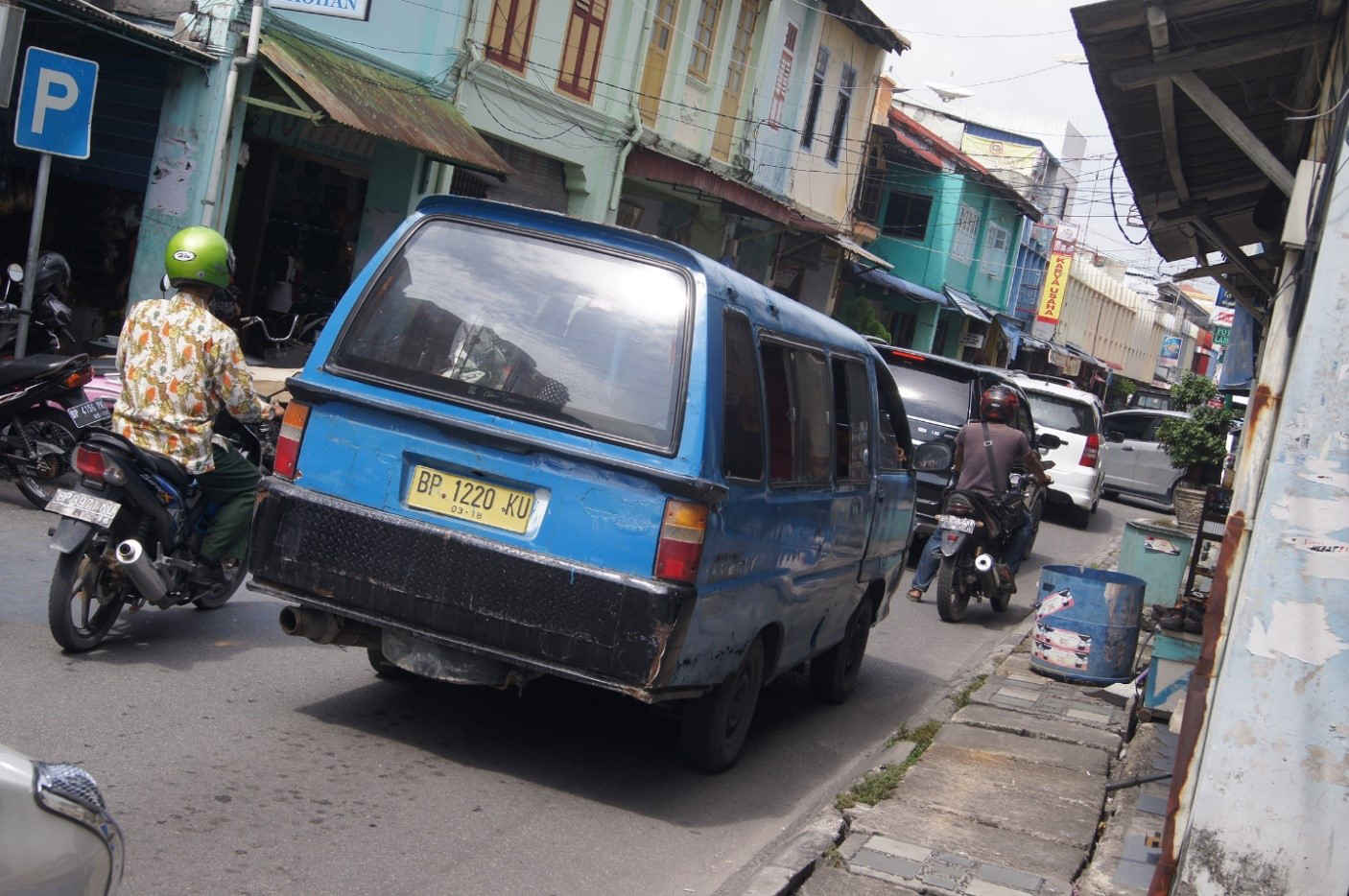 Even though we informed the counter staff that the TV is not working, they didn't come to solve the problem. The next day, we attempted to fix the television by switching the plugs and it worked. Although the connection was bad it was at least better than nothing. We decided to comb the other side of the street. We ate breakfast at the hotel and some dishes wasn't prepared well, it was usually undercooked or overcooked. We ate lunch at a bak ku teh store near the terminal which cost $3-$4 per set. It is important to ask the price of the food before you order as they may overcharge you. For example, a cup of coffee can cost 10000 rp for us but maybe 3000 rp for the local.

Since we are tired of walking back and forth from a hotel, we hailed a blue van. The van travels on a fixed route and you can alight and board at any place. It cost a fixed price of 5000 rupiah $0.50) per person. There are also yellow colour van which travel different route.

In Hotel Maximillian, blackouts are very often. It would happen around 5 times a day, usually lasting a few seconds to a minute.

My mother was waiting excitedly for Aunt L's and her husband arrival. When Aunt L arrived, we head off together to a supermarket (Indo A. Yani Swalayan & Dept. Store). One of Aunt L's relatives, who is a local, accompanied us as a tour guide. We took a yellow van as a transport there and when we reached the 4-storey-high shopping mall, my mom and Aunty L dived into the shopping area. My mom were satisfied as some of the goods are cheap. After shopping, we head back by a blue van to the hotel.

For dinner, we ate together with Aunt L and her relative's family (10 persons) at long beach restaurant. We paid a total price of $125 for 10 people.

The next day, we set off to the wet market together with Aunt L and her relatives. My father made a morning run to and fro to the market and estimated that the distance should be roughly 1.2KM from hotel to market. You just have to walk in the direction away from jetty and along the coastal road to reach the market. We took the blue van since the distance is too far for us.
The wet market is very crowded and some people were selling goods on the floor. My mom was interested in some clothes as it is expensive and hard to find in Singapore. If you can speak Malay, it is convenient when you need to ask for the price of food or anything...

After shopping, we went to Aunt L's uncle's warehouse. He is a fish exporter who would collect fish from fishermans and distribute/sell the fish to Singapore and Malaysia. My brother was happy that he could take a photo together with a big fish.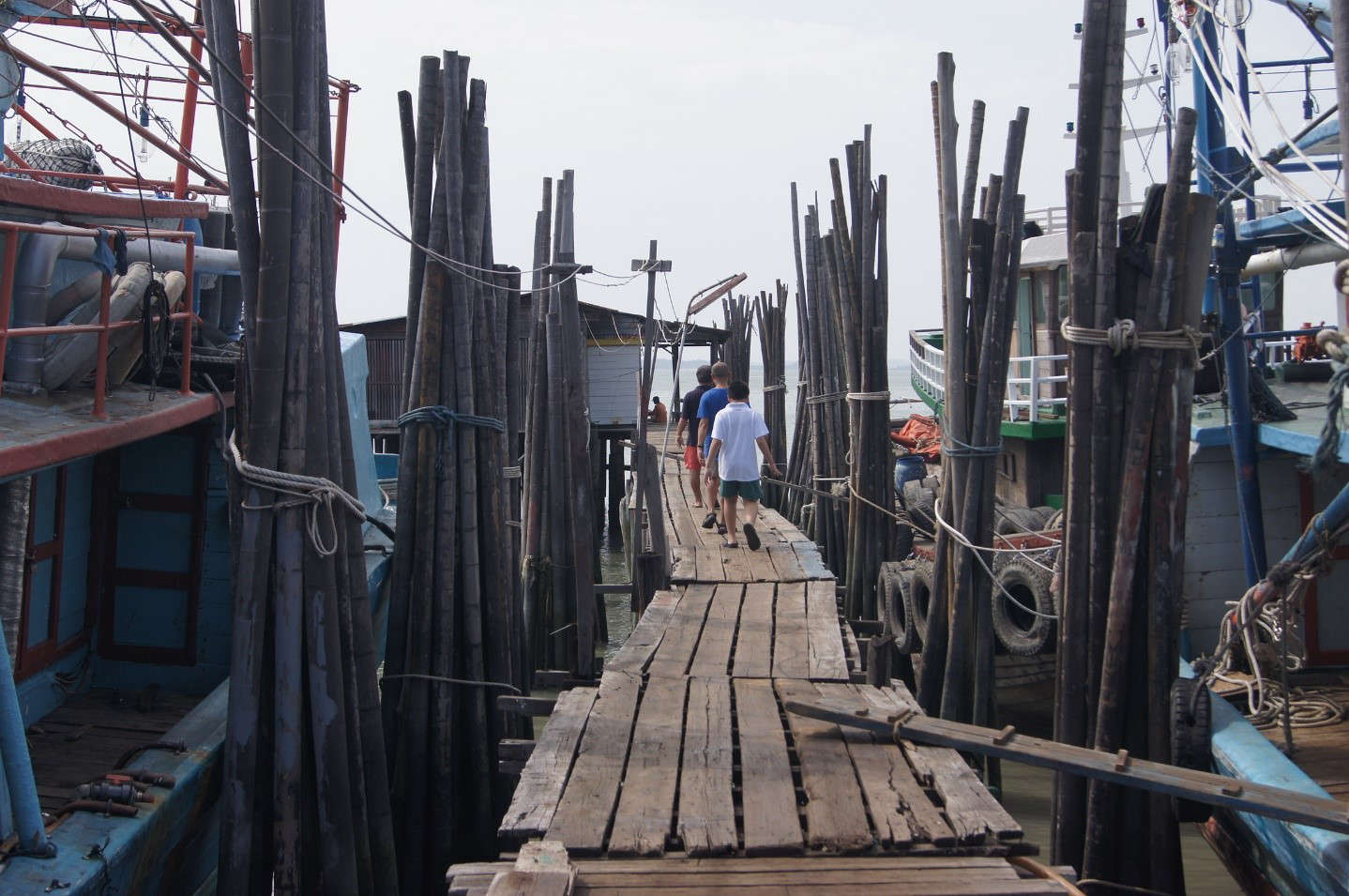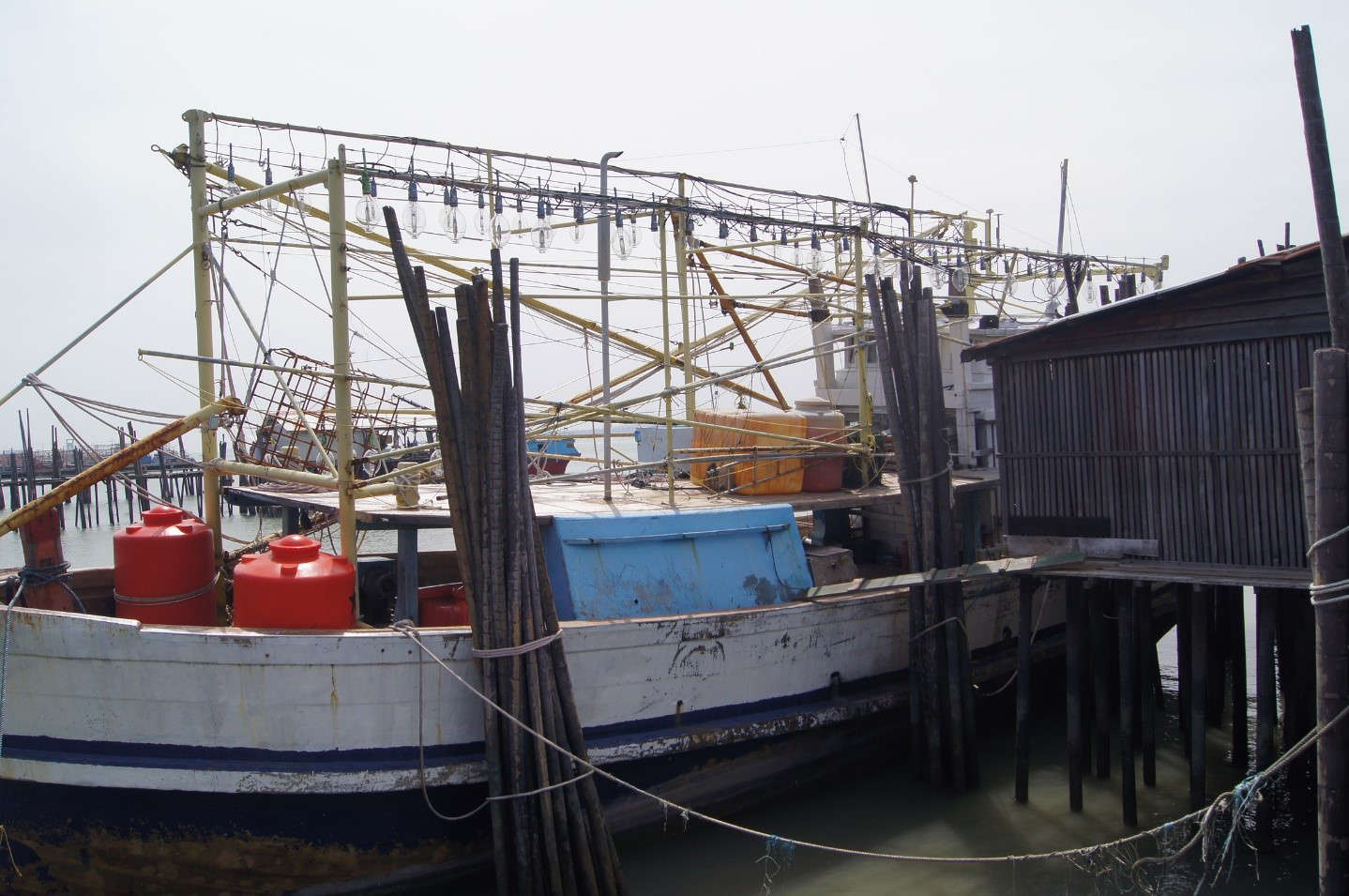 Uncle told us that the ship with lots of light blub is for catching sutong which will be attracted to strong light in the night. It is so bright that human eyes cannot look at it.

We passed by a durian store and my father was a durian lover. The kampong (non-branded) durian cost 25000 rupiah ($2.50) per kg. In Singapore, it is about $5 per kg. But when we start eating it, we discovered that it is of low quality.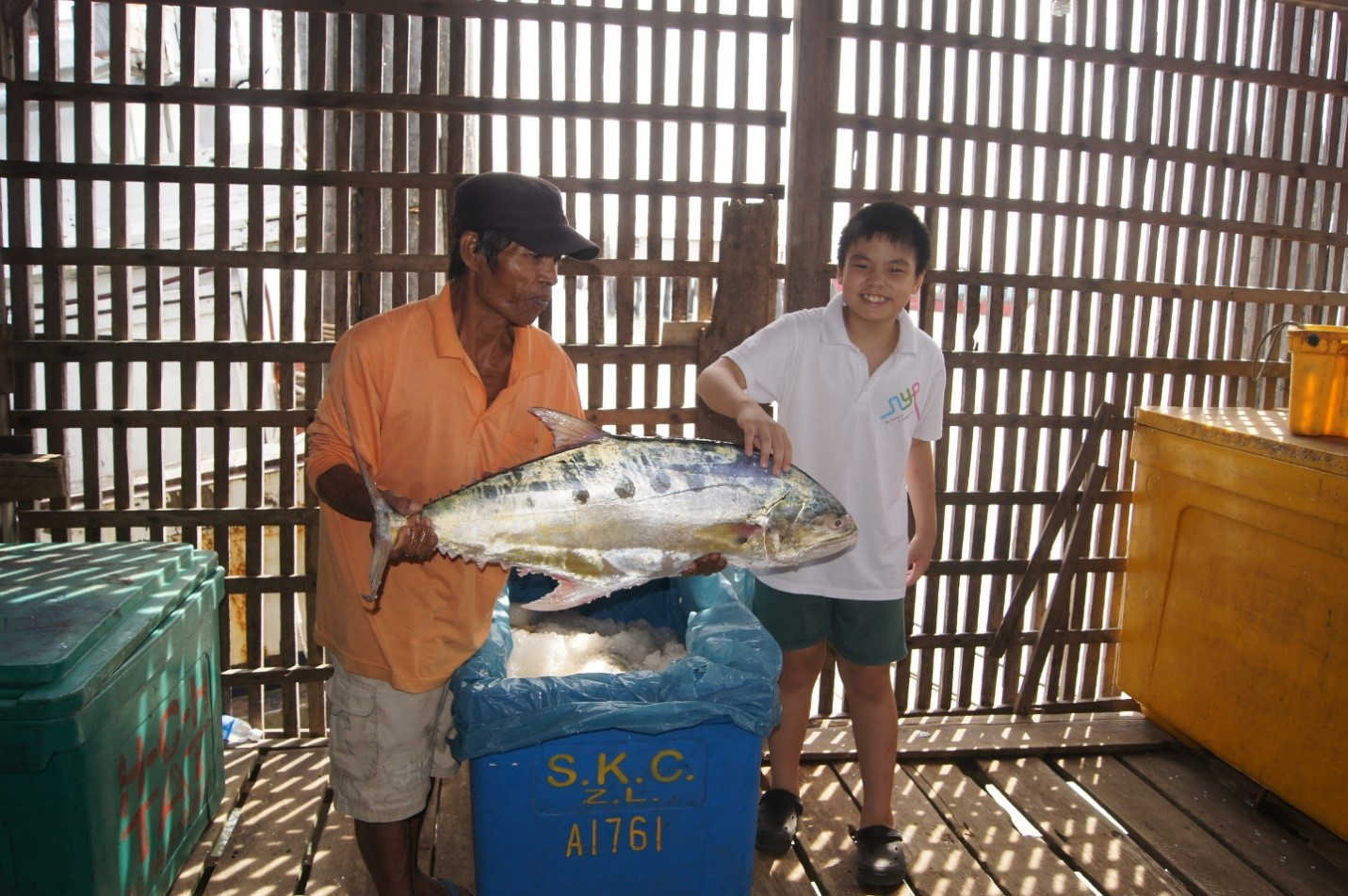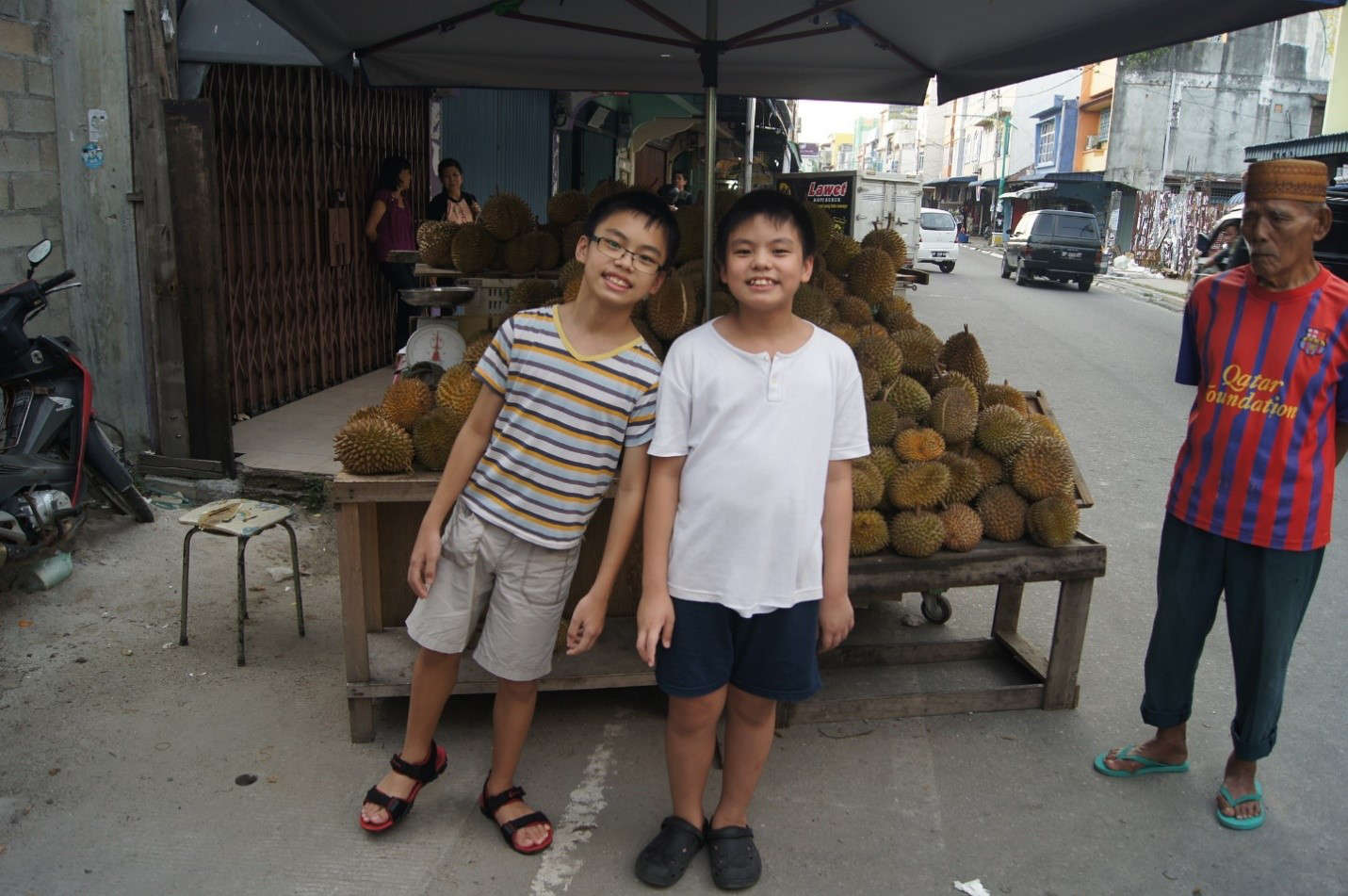 The next day, we went to the ferry terminal using the free (we paid some tip) transport provided by the hotel and depart from Indonesia to Singapore. There were only 3 families with Children in the ferry and the rest were men. The ferry was only about 50% fill. The ferry was one of the most boring part of the trip.

current guest: ST99999 | US21089
recent guest: ZZ11111 | ZZ96921 | NL68130 | ZZ96925 | JP25158 | US97201 | ZZ96922 | ZZ64174 | ZZ96470 | ZZ96911 | ZZ96913 | SG15165 | US61391 | US61390 | US39126 | US39136 | US53920 | ZZ96486 | ZZ96910 | SG69746 | NL68151 | NL68152 | GB26166 | SG71184 | SG94158 | ZZ96924 | ZZ64188 | ZZ96929 | ZZ96912 | NL68143 | NL68140 | ZZ96472 | NL68135 | NL68161 | US21089 | ST99999
cU: 563 cG: 6784 dT: 5 dT List: 9s 1h 31m 4h 33m 31m 36m 1h 58m 31m 50m 39m 58m 39m 44m 56m